Roschcrete presents you an elegant and exotic range of beautiful name plates, carefully crafted with hands. We have exclusive smart technology developed in the Netherlands to help us make the special product. The technology is simply a solid stone carved into 3D forms of alphabets / numerics and logo designs with special ability to transmit light through the stone.
The concrete is available in numerous colors and we provide bespoke design and colors as per requirement, exclusively for your place.
All of our products are enhanced using german finishing chemicals and sealers to provide a durable and long lasting surface finish.
The exotic and timeless name plate / number plates and logos are made with precisely concrete design to add that elegance to your place. The concrete specially casted in the form to lighten up in the form of numbers and alphabets that brightens up the night look of the plate. The plates are hands crafted using ancient traditional Indus scripts methodology.
Fusion of seasoned wood frame imparts integrity to the design and makes it a unique masterpiece for your place.
1) NAME PLATES / NUMBER PLATES / LOGOS
Size
Our standard Width comes in 6 inch and 12 inch size & depth 25 – 35mm
TYPES
COLOR
COLORED PLATE / COLOR DEPRESSED / COLORED EMBBOSSED
SURFACE
RAW SMOOTH CONCRETE / PAINTED / SANDBLASTED ROUGH
LIGHTING
WARM WHITE / COLORED RGB / DIRECT OR SOLAR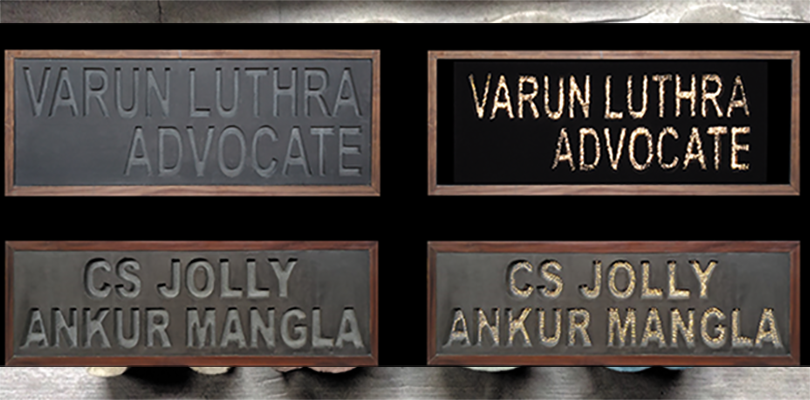 Design and Developed in Netherlands, Made in INDIA